Musical History
[ Home ] [ News ] [ Musical History ] [ My Favourites ] [ My Guitars ] [ Concerts ] [ The American Diary ] [ Route 66 Tour-2002 ] [ The Great American Dream ] [ Albums ] [ Photo Gallery ] [ Grove Park Grammar School ] [ Llanymynech Golf Club ]
The track playing is "Stop Messin' Around".
1959 - Forms first group, The Renegades, in Wrexham, North Wales, playing a mixture of pop and rock'n'roll. The original lineup was: John Andrews (Vocals) Roy (Lead Guitar) Steve Lloyd (Drums) John Halstead (Rhythm Guitar) & Kevin Hughes (Bass Guitar). Over the following years they undergo many changes of personnel, name and style.
The Renegades on stage at the Hippodrome, Wrexham
Find out more about The Renegades, click HERE!
In the "Merseybeat" boom of the sixties the band, by now called Dave Eager & The Beavers, play as support to many of the famous names of the era, working mostly in North Wales and Liverpool. Began to take an interest in, and play, the blues. As a matter of interest the original members of the band, along with most of the replacements, are still close friends as are very many of their fans!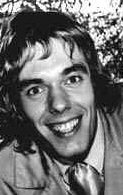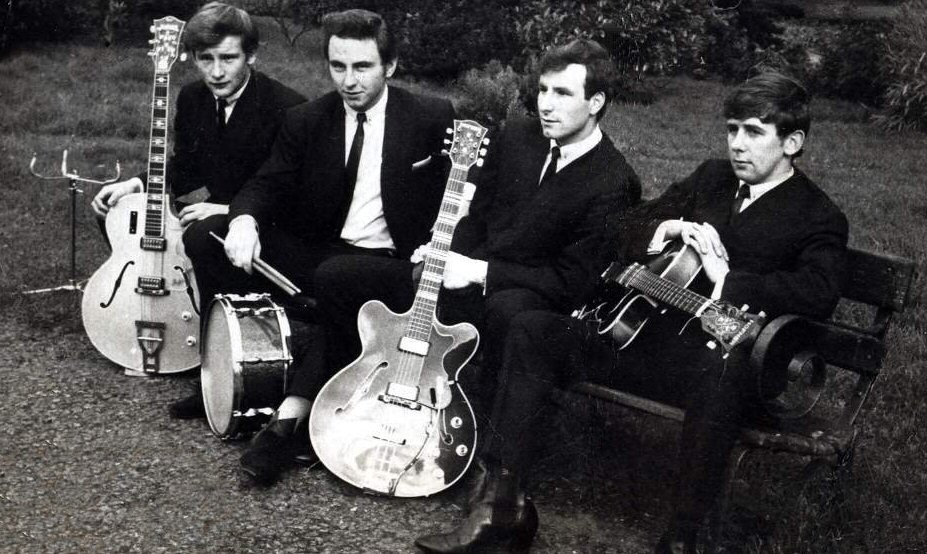 Dave Eager The Beavers in Acton Park, Wrexham
and onstage at The Victoria Rooms, Oswestry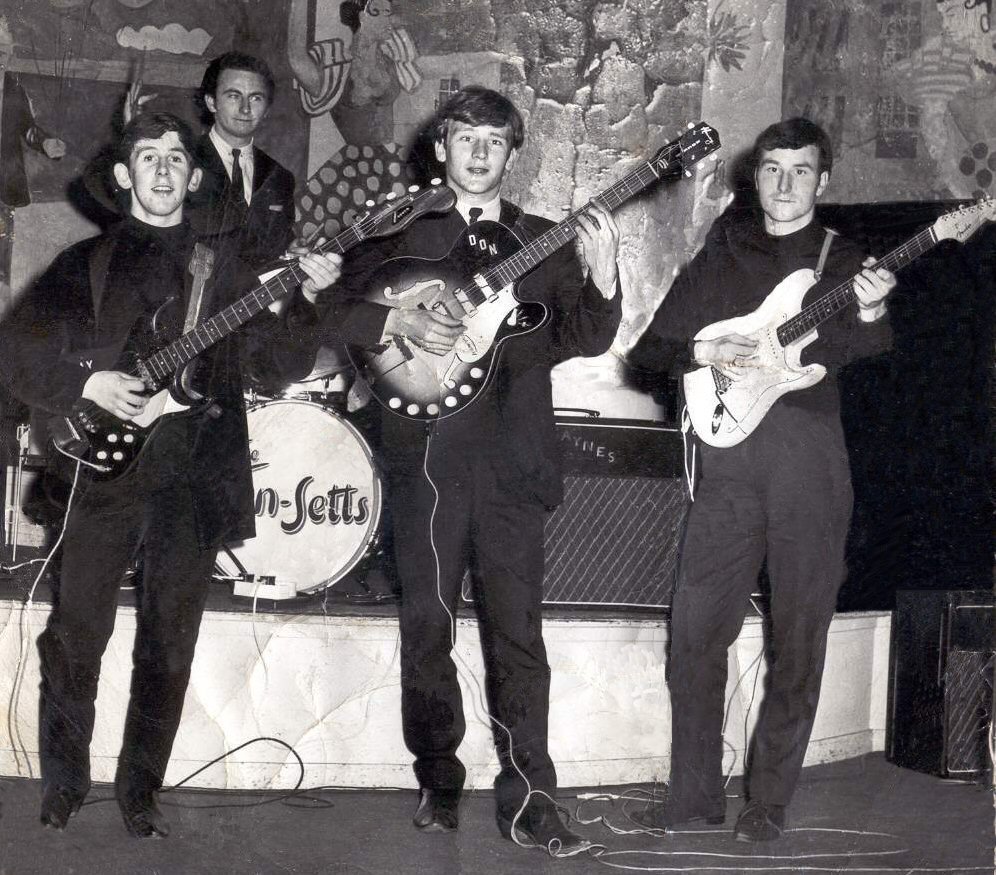 1965 - Joins The Ray Irving Showband as lead guitar/vocalist. During his spell with this band his repertoire expanded to include many of the big band numbers of this and previous eras. The band's rhythm section not only performed songs on their own but also did a few gigs as "Free Thought".
Spot the odd one out!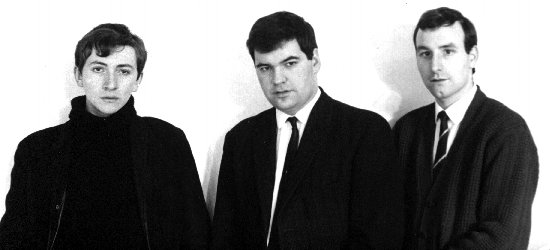 John Greaves (brilliant musician) Steve Lloyd (brilliant musician) & Roy!
1968/71 - Attends Liverpool University Dept of Education,Edge Hill College and trains as a teacher of Physical Education. Graduates with a Cert. Education in two main subjects:- Physical Education and Geography. Settles in Lancashire. During holidays worked as an entertainer at Prestatyn Holiday Camp!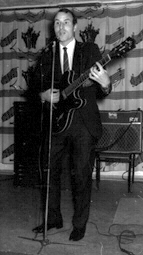 1971 - Forms a cabaret group and plays the workingmen's clubs of the north of England.
1975 - Returns to North Wales to teach then in 1978 re-joins The Ray Irving Showband.
1983 - Leaves Ray's band to form "Speakeasy" a very versatile band whose styles range from comedy to rock. Whilst with this band he began songwriting and contributed most of the songs on the band's first (and only!) album - "Destiny". The band made appearances on both radio and television.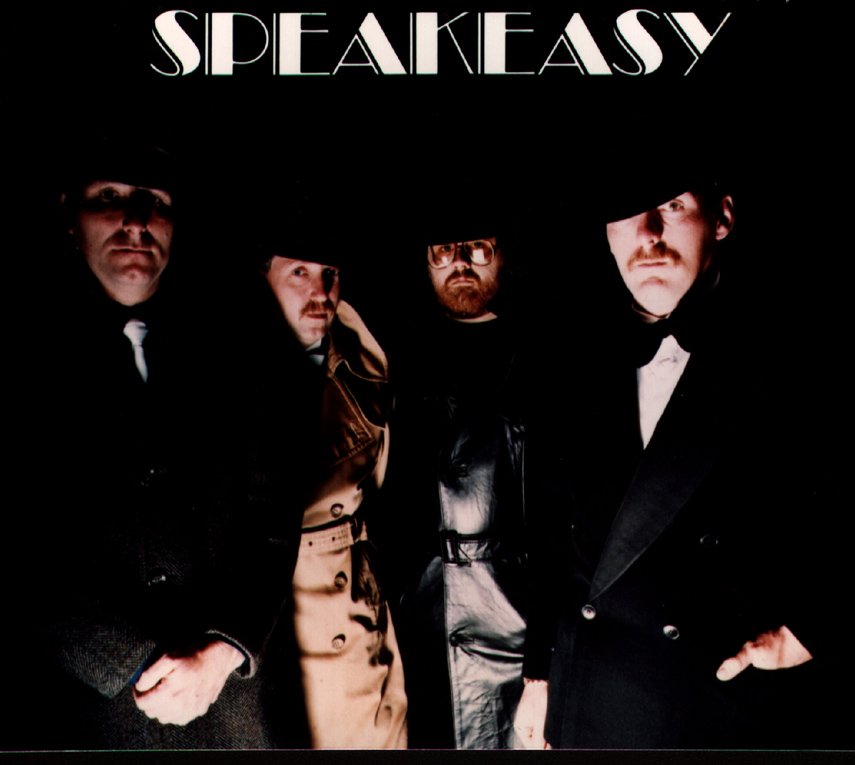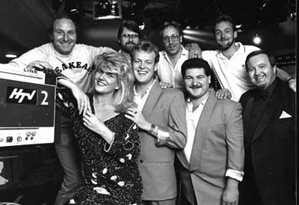 The album cover & with the other artists from the HTV show "Showbizz"
1988 - Leaves Speakeasy to go solo and turns full time professional. Spends the next nine years touring the circuit of pubs and clubs all over Britain and also tours on the continent a number of times, playing a mixture of blues, ballads, instrumentals, rock'n'roll, etc.
1996 - Voted "Entertainer of the Year". This was a "mixed blessing" as by this time Roy had tired of the club circuit and had made a decision to return to playing blues. The award brought offers of much work his way but of the type he no longer wanted to do so most of it was turned down in favour of getting back to playing the blues.
1997 - Using the prize money to fund a long cherished dream trip to the USA to find his musical roots, Roy was lucky enough to meet one of his all time heroes, Buddy Guy at the latter's "Legends" club, in Chicago. Roy had taken part in an onstage "jam session" and was amazed to be greeted, as he left the stage, by Buddy Guy himself who told Roy how much he had enjoyed his singing and playing. The two chatted (mostly about basketball!) for a good while and Buddy gave Roy a "Legends" baseball cap. Roy was feeling on top of the world, not knowing what fate had in store for him.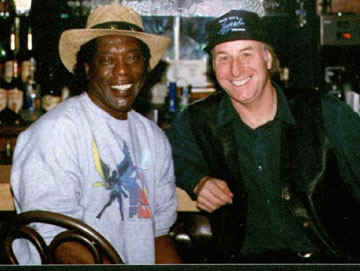 After undertaking his first, short, blues tour in July 1997 he took a break and went on holiday with his family. On August 11, he is involved in an horrific car crash in the South of France in which his wife was killed. Coming round from a coma nine days later he is told of his wife's death and that he would never walk again. Spent the next 13 months in hospital. 14 operations later he is released from hospital and begins the long fight back to fitness and rebuilding both his life and his career.
2000 - A new millennium and the re-birth of Roy's career. Attending a fitness centre regularly and working flat out writing, rehearsing and recording has put him back where he belongs - in front of audiences, playing the Blues! He also records his first solo album, produced by Kevin Hughes and with some of the piano tracks played by Derek Crewe, both former members of The Renegades!
Most of his work, over the following two years, was in the U.S.A. and, in the aftermath of 9/11, Roy undertook, in 2002, a "Route 66 Blues Tour" all the proceeds of which were donated to the 9/11 Fund.
After this tour Roy decided to take a well-earned break from touring which was supposed to last a year. However, this has lasted four years and he has decided that touring is no longer something he wishes to do. Instead he will concentrate on working locally at small venues that are dedicated to keeping music live.
The frontpiece of his brochure just about sums it all up - "A lot of Blues, a bit of Soul and some good old fashioned Rock'n'Roll" , Roy is now playing the music he loves. His act is his way of saying "thank you" to the music that carried him through the trauma he suffered. He pays tribute to some of the all time greats, Muddy Waters, Jimmy Reed, Chuck Berry, B.B.King, Buddy Guy, Eric Clapton, Peter Green & Fleetwood Mac, Stevie Ray Vaughan, The Blues Brothers, Gary Moore etc. whilst also including many of his own compositions.
A critic in "The Stage" once wrote of him "…..with his pleasant voice and superb guitar playing, his obvious pleasure in doing what he does really shines through…."
Never has this been more true than now.